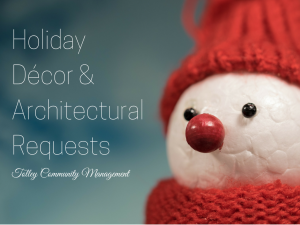 Decorating for the holidays is both a nostalgic treasure and a beloved tradition. While your neighbors may think their handmade paper mache snow man looks great on their front porch, you secretly know that you and everyone else in the community would prefer if they kept it inside. When you live in a covenant protected community, you may be protected from odd decorations and bright lights that seem to be sprinkled through every neighborhood during the holidays. If you want to join in on the celebrations by decorating your home, make sure that your community does not require an architectural request or variance request before you place Santa Claus and his reindeer (or any other decorations) in your front lawn to prevent violations and fines this holiday season. As always, be sure the decorations you intend to place are current with OSHA Electrical Safety Standards and local code enforcement standards.
Tolley Community Management recommends placing these requests two months in advance due to the busy nature of this season. There are many homeowners who may be interested in decorating their homes for the holidays so these requests become may become difficult to expedite. If you are a homeowner who lives in one of the neighborhoods we manage and you want to decorate your home and your neighborhood legal documents require an ACC Request, send in your ACC Request to Tolley Community Management immediately.
As always, we can be reached at 770-517-1761 for any questions regarding this matter! Happy holidays!